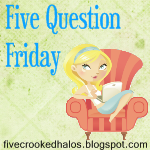 Welcome to Five Question Friday!! You've come to the right place if you want a fun, easy post or if you've suddenly discovered your muses are preparing for Easter! Rules for 5QF: Copy and paste the following questions to your blog post, answer them, then watch for the linky post to appear Friday morning and LINK UP! (Feel free to play along on Twitter, also!) Oh, and remember (pay close attention...this is the important one)...HAVE FUN!
Questions for Friday, April 6th: (Special thanks to Pam (@trooppetrie) from Troop Petrie, Becky (@beckymuller) from It's a Wonderful Life, Tina (@PeazyT) from I Have Autism, not Cooties, Erin (@Midnite592) from Dreaming with Midnite, and Kate (@KatieB38) from Kate's Life for their question suggestions! I would love to link you in a future 5QF, so come on over to my community or watch for my Thursday afternoon shout out for questions on Twitter and offer up your best question suggestions! Remember to @5crookedhalos me and use hashtag #5QF if you go the Twitter route!)
1. Would you prefer having people over for dinner or going to their house?
I hate going out... would rather have them come over.
2. Favorite Bible verse and why?
The 23rd Psalm - just because
3. What was the first concert you ever attended, and the most recent one?
First concert - Motley Crue. Most recent - Kenny Chesney
4. The year is 2025. What are you doing, and what have you done?
I hope to be happy and healthy, have my new job I enjoy, and feel secure.


5. What's your favorite Easter treat? Jellybeans... I eat all the yellow and red ones first.