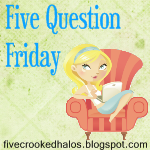 1. What have you done recently that you are proud of?
Gotten my Black Belt in TaeKwondo side by side with my son
2. What is your favorite way to work out? Or if you don't workout, what are you wanting to try?
I enjoy taekwondo and lifting weights
3. If you knew your best friend was cheating on spouse would you tell?
I guess it depends on the whole situation
4. If you could afford a live-in maid or nanny, would you have one?
5. Do you stress out about birthdays (specifically the age) or do you enjoy them?
Just another day... no biggie
And, a bonus question from Scott, that I wasn't brave enough to put in as a regular question...answer at your own risk, or not at all! (Or something...)
Bonus: Lights off or on?
Lights off... are you crazy!?!?