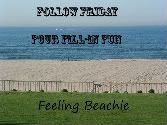 This weeks statements:
I used to enjoy_
crafting
_but now I don't really anymore except for when I_
get the urge
_.
My first job was_
a newspaper delivery girl
_.
I am a bit obsessed with_
blogging
_at the moment.
If I don't have my_
teddy bear
_at night, I don't sleep well.